Regional Specificities & Perspectives
In recent years, Senegal has made significant efforts to develop its digital ecosystem. Pushed by the government's commitment to promote innovation, the country is striving to position itself as one of the digital hubs in West Africa. With the Digital Senegal 2025 strategy as a road map, technological and digital start-ups are being boosted as a key factor in the digitalisation plan of the nation. Despite these efforts and Senegal being one of the most stable countries in Africa, several challenges remain in its digital transformation, such as the democratization of Internet connection and access to digital services, particularly in rural areas.
With a population of just over 18 million people, it is important to take into consideration that more than half of Senegal's inhabitants lives in rural areas (50.6%) (Worldometer) and almost a quarter of the population lives in Dakar, the capital (World Bank). The urban community has currently a notably larger number of Internet users and mobile phone connections.
At the start of 2023, there were 10.2 million Internet users in the whole country, with an Internet penetration of 58.1% (Data Reportal). Also, between 2022 and 2023, Internet users in the country increased by 255.000 (+2.6 percent) (Kepios). The growth is a reality, and the room to grow is even bigger, with a young population (median age of 18.5 years, according to Worldometer) that is open to embrace technology and digital services. Affordability and infrastructure of Internet services are still one of the main barriers to increase the penetration rate.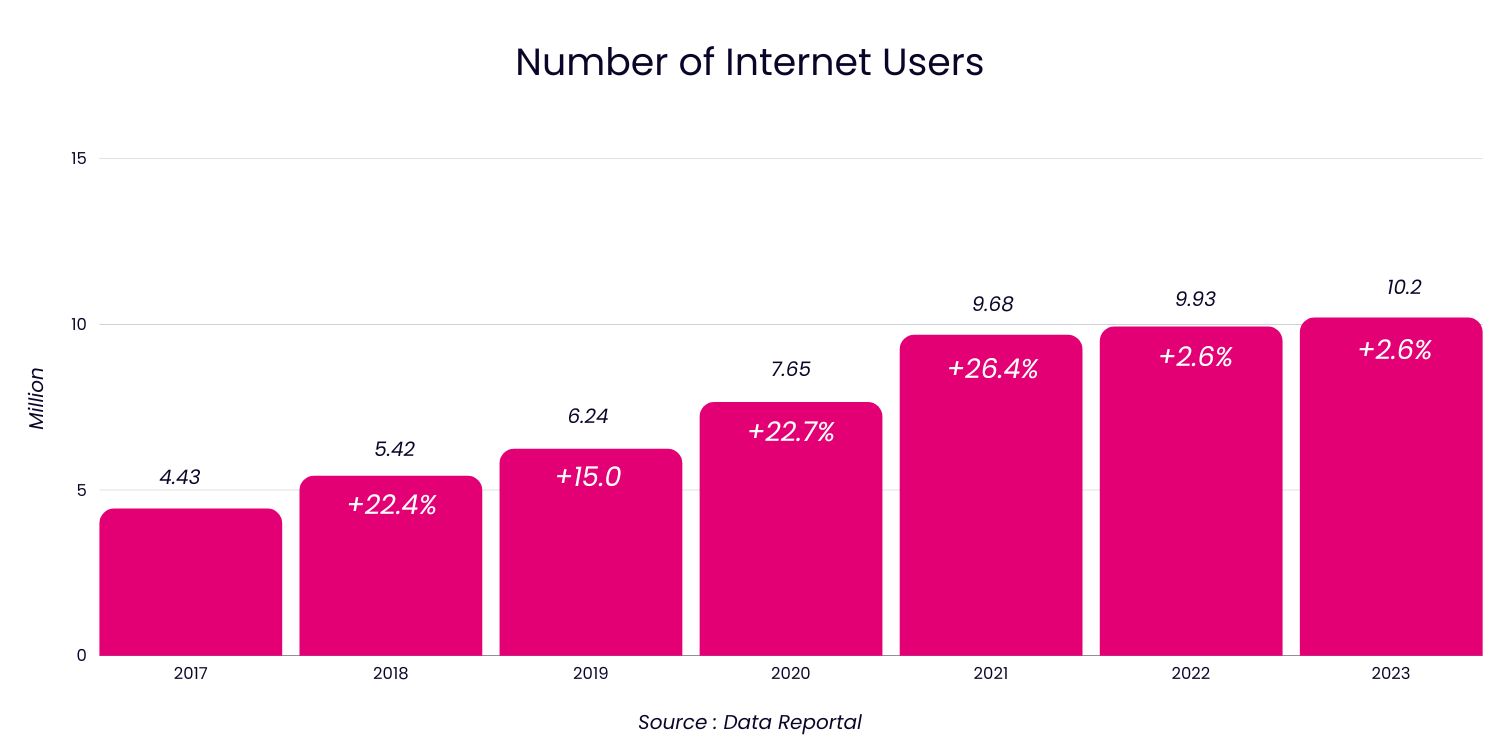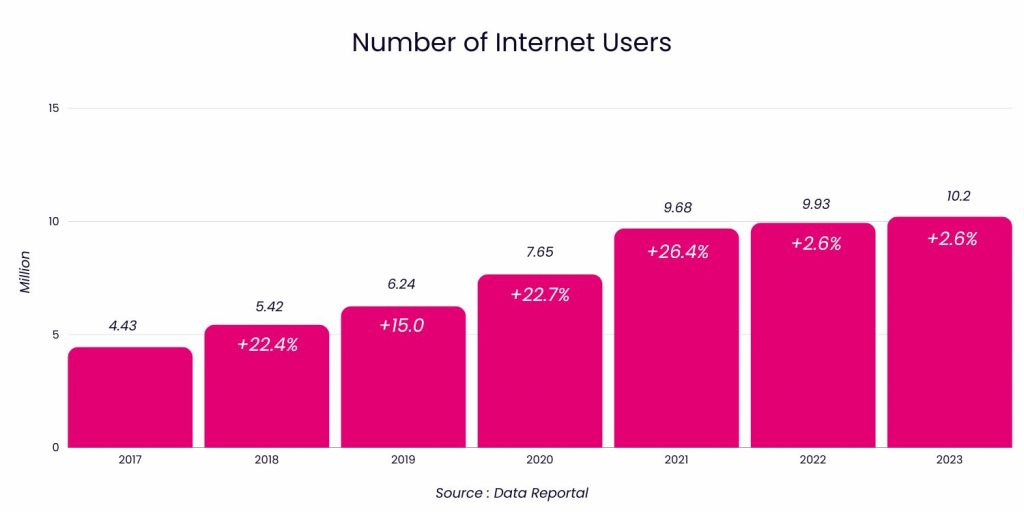 In terms of cellular mobile connections, there were 20.1 million in Q1 2023, that represented a 114.8% of the total population (GSMA Intelligence), and an increase of 1.9% of connections between 2022 and 2023 (Kepios). Smartphones are becoming more accessible, and with them, the possibility of implementing alternative payment methods that can secure financial inclusion in a country where the credit card penetration barely reaches 5%, according to the latest Findex Database (World Bank).
Digital Economy & Commerce
The digital ecosystem in Senegal holds immense potential for driving economic growth and addressing one of the country's major problems, youth unemployment. The foundations to achieve these goals are already in place, including the Digital Senegal Strategy 2025, which aims to establish Senegal as a digital transformation hub. By embracing digital innovation and leveraging data effectively, Senegal can boost its digital economy.
Digital payments and commerce are also set to represent a driving force of this change. Especially considering that alternative payment methods, such as Mobile Money, are more popular than ever, both in usage and in awareness. According to the latest GSMA report on the Mobile Money industry, Côte d'Ivoire, Ghana and Senegal are considered the leaders in this area on the African West Coast. Actually, Senegal ranked within the top countries of Africa in bills payment with Mobile Money, with a 27% ratio. Also, 20% of Mobile Money users in Senegal claimed to have received funds from a relative or friend living abroad in the last 30 days.
Regarding digital payments, Statista claims that the market in the country is projected to reach $2.5 billion in 2023 and is expected to show an annual growth rate (CAGR 2023-2027) of 15.8%, resulting in a total amount of $4,5 billion by 2027. But there is still a long way to go, especially regarding merchant payments, as only 12% of the adult population in Senegal did a digital merchant payment during last year Findex Database (World Bank).
The digital commerce has also shown signs of improvement recently, as transaction value is expected to experience an annual growth rate (CAGR 2023-2027) of 13,9% resulting in a total amount of $0.74 billion by 2027, from $0.44 billion in 2023. In this segment, the number of users is expected to set at 8.73 million by 2027 (Statista).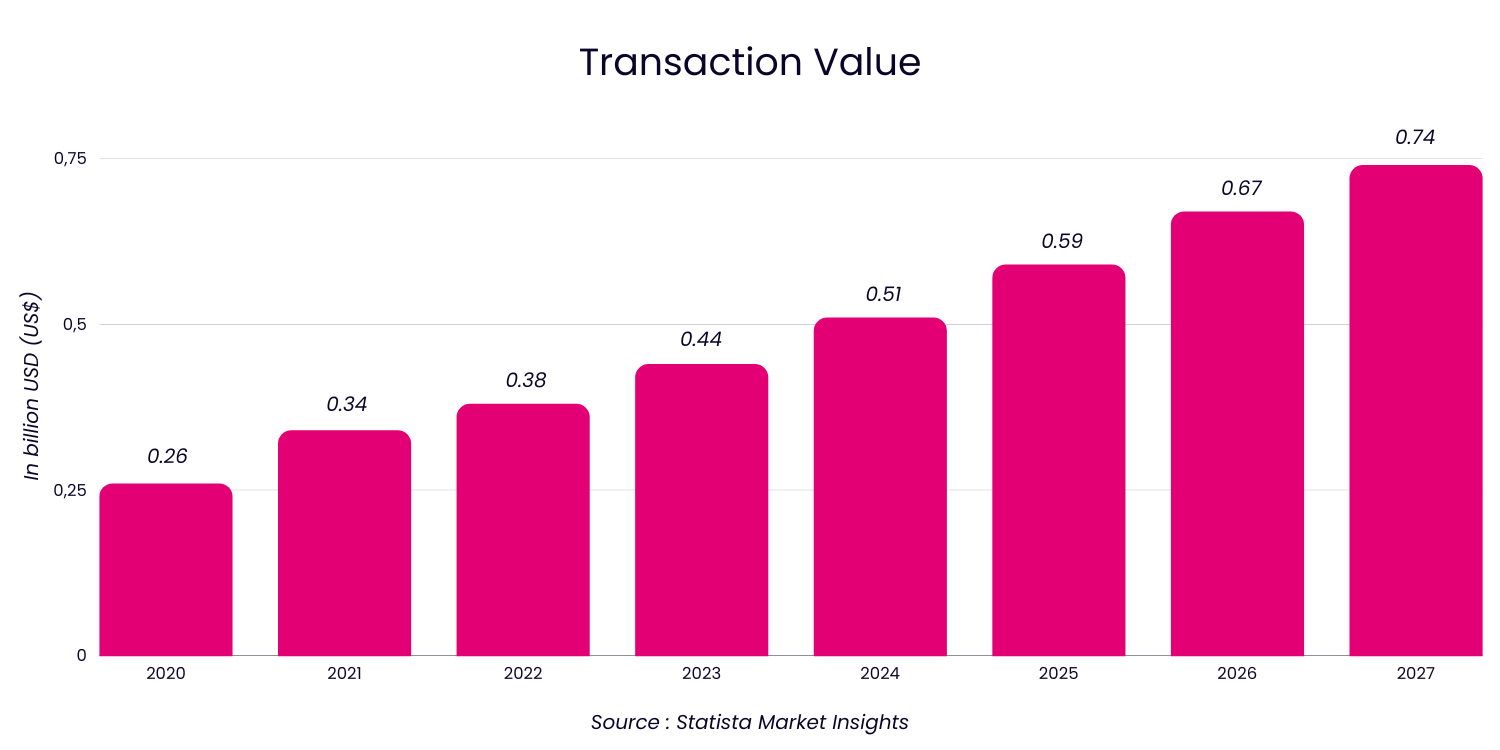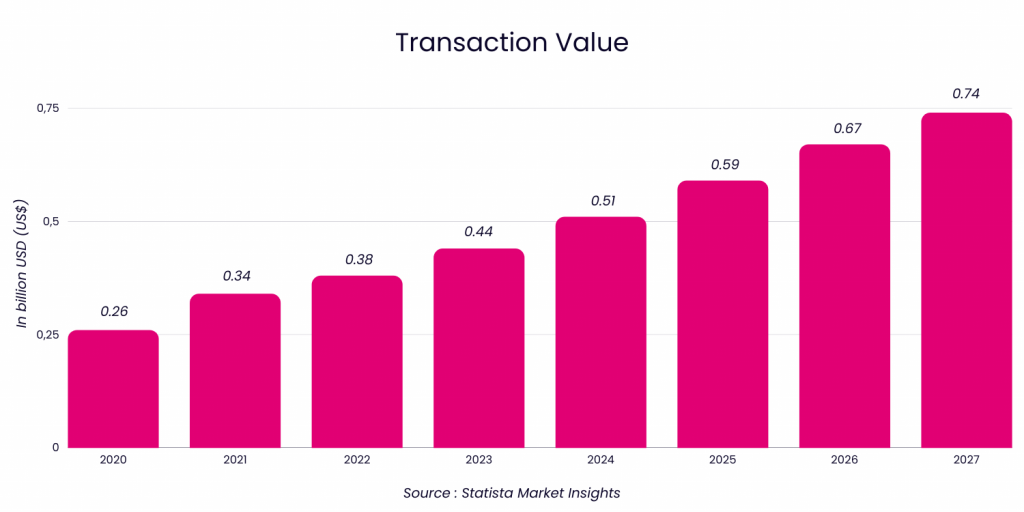 (Click on the infographics to enlarge)
Digital Content Consumption
In the area of digital content consumption, as mentioned above, Senegal's population is eager to access more qualitative content. The main verticals around content are Gaming, Video-On-Demand and Music Streaming, with the demand as high as ever in these sectors.
According to Statista, revenue in the Senegal Video Games market is projected to reach $33 million in 2023, with mobile games being the largest segment of the Gaming market in the country, accumulating a market volume of $20 million this year. With over 5.4 million users expected by 2027 (27.2% penetration rate), the growth and expansion of Gaming in Senegal has a great potential.
In the VoD segment, the market is projected to reach just under $23 million in 2023, with Video Streaming (SVoD) being the largest VoD market in Senegal. Here, a special mention has to be made to locally adapted content, as well as local content itself, as a key part of the consumption of Video-On-Demand. By 2027, the prediction points to 8.7 million users in the country, with a penetration rate of 43.4% by 2027 (Statista).
In third place, still in a distant position from Gaming and VoD, the Music Streaming services' market is projected to reach $0.65 million in 2023. With only a 1% penetration rate in 2023, this vertical is expected to amount to 256.700 users by 2027 (Statista).
What's Next?
Senegal's digital ecosystem is prepared for growth and transformation. With a strong focus on digital innovation, the country is paving the way for economic development and job creation. By addressing challenges related to Internet access, adapting business practices, improving logistics, and investing in skills training, Senegal can unlock the full potential of its digital ecosystem. The collaboration between the government, international organizations, and the private sector will play a crucial role in driving the digital transformation and ensuring the inclusive growth of Senegal's digital economy.
Within this process, the opportunities to address the country for both national and international digital services providers is enormous, at the same time that telecom operators are in the perfect spot to fulfil what an increasing number of its population is demanding: the implementation of alternative payment methods (Mobile Money, Direct Carrier Billing etc.) to democratize access to premium digital services & content.
If you want to know more about the country's possibilities, contact our team of on-ground local experts and they will help you understand what is needed and how to address the market.