Regional Specificities & Perspectives
Situated in West Africa, Ghana is a nation of great promise and rapid transformation. The current government recognizes the opportunity that digital development has for stimulating jobs, improving productivity, and accelerating inclusive growth, and has pledged to put digital economic transformation at the center of the country's development.
As of October 12, 2023, Ghana's population stands at 34,305,222, with the majority, 56.7%, residing in urban areas (19,350,121 people). The country's median age is youthful, at 20.7 years, which significantly influences its digital ecosystem. (1)
In early 2023, Ghana recorded 23.05 million internet users, signifying an internet penetration rate of 68.2%. The digital landscape continues to flourish, driven by a surge in internet usage. Mobile technology in Ghana is a driving force, with 43.88 million cellular mobile connections recorded in early 2023, exceeding 129.8% of the population. This growth is reflected in a 1.9% increase in internet users from 2022 to 2023, as shown by Kepios analysis. However, 31.8% of the population remains offline, emphasizing the need to bridge the digital divide. (2) 
Digital Economy & Commerce
Ghana also distinguishes itself with substantial growth in its mobile money market in sub-Saharan Africa. In 2020, mobile money transactions exceeded an impressive $36 billion. This achievement highlights the country's rapid adoption of mobile financial services and its strong presence in the digital finance sector. (3)
In 2023, Ghana's digital payment's penetration rate stands at 36.99%, with the total transaction value in the Digital Payments market expected to reach $1.06bn. The anticipated annual growth rate (CAGR 2023-2027) is 14.94%, leading to a projected total transaction value of $1.85bn by 2027. (4)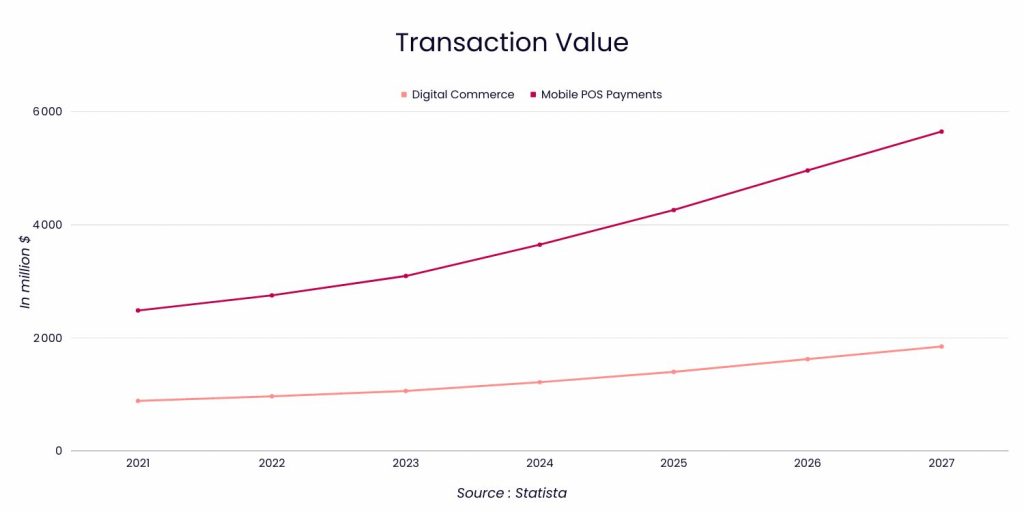 The government's commitment to digital development as part of the "Ghana Beyond Aid" agenda remains unwavering. Initiatives such as the comprehensive digital address system and the automation of government processes are driving this transformation.
In line with this vision, the government is actively crafting a digital strategy to position Ghana as a leading ICT innovator in Sub-Saharan Africa by 2023. This strategy emphasizes expanding the local IT industry, reducing the urban-rural digital divide, and leveraging ICT to improve efficiency across various sectors.
Ghana's dynamic digital payments landscape, combined with its impressive mobile money growth, is a testament to the nation's digital capabilities. As it continues its journey toward digital transformation, the full potential of the digital economy is within reach. (5)
 
Digital Content Consumption
Ghana takes a significant position in the digital landscape, ranking third in Africa for private digital platforms, following Nigeria and South Africa.
According to Statista, the digital media market in Ghana shows significant revenue growth, with video games taking the lead. It is projected to reach a revenue of $121.8 million in 2023, with an estimated penetration rate of 30.55% by 2027.
Closely followed by Video on Demand (VOD), the anticipated revenue per market is $97.72 million in 2023, with a projected penetration rate of 44.47% by 2027.
The digital music market, have a projected revenue of $4,199 per market in 2023 and an expected penetration rate of 4.11% by 2027.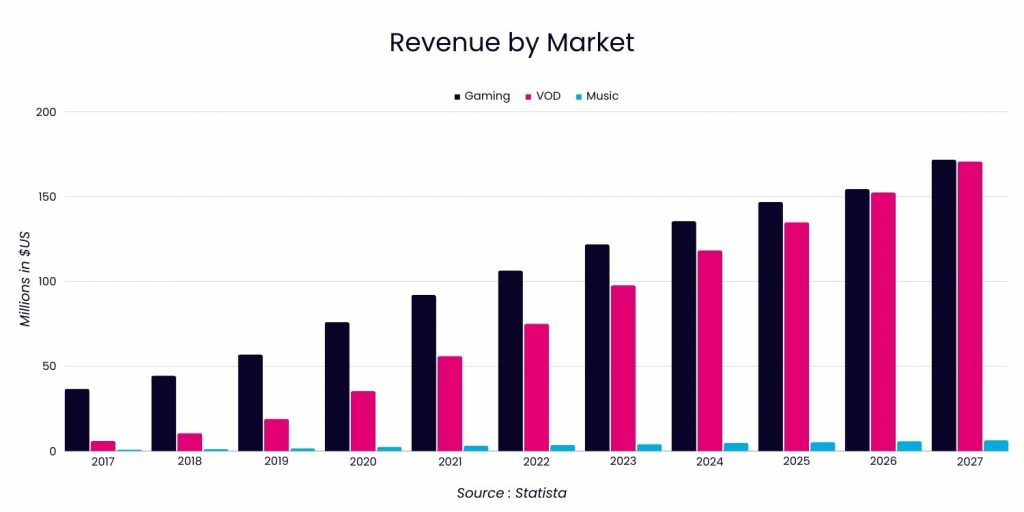 This growth in digital media consumption is driven by the expansion of mobile internet access and increasing connection speeds. The rising number of mobile and streaming devices fuels a consistent demand for various types of digital media. The COVID-19 pandemic has significantly accelerated this trend, with increased digitalization and media consumption expected to continue post-pandemic. (6) 
What's Next?
As we conclude our exploration of Ghana's digital landscape, it's clear that the journey is far from finished. Ghana's digital future promises more growth, innovation, and economic opportunities.
The commitment of the government to digital development, as seen in the "Ghana Beyond Aid" agenda, sets the stage for ongoing transformation. In the years to come, we can expect greater digital access, a thriving digital economy, and more solutions tailored to people's needs.
If you want to know more about the country's possibilities, contact our team of glocal experts, and they will help you understand what is needed and how to address the market.
Sources