What our Team worked on?
This service is available for both pre-paid and post-paid customers. We made sure that Mobile Ticketing for Autolinee would go with an innovative user experience based on the QR code. This means that users who don't want to download the app or use their credit cards, use our Carrier Billing as an alternative way to buy bus tickets in 2 simple ways:
sending an SMS with "FIRENZE" (or "PISA" or "LUCCA"..) to a premium number unique for all cities in Tuscany: 4880105.
scanning a QR CODE that is printed at a bus stop, or inside the Tram in Florence (for last minute users: buy on-board tickets). The user is sent to a web app where they are geo-localized via GPS which goes straight to the Urban ticket for the city where they are. Additionally, they can select the desired ticket from all transports in Tuscany and buy via SMS – a regulatory requirement in Italy.
The QR CODE user flow for buying tickets in Tuscany have proved to be highly effective and appreciated by the users. Since its launch in November 2021, now 5% of digital SMS tickets sold by Autolinee Toscane come from scanning the QR CODE at bus stops. The Conversion rate of people scanning the QR CODE vs. buying the bus tickets is impressive: 80% in just April 2022. Furthermore, the QR CODE users buy on average 3 tickets per month.
This appear to be the ultimate preferred solution for occasional users of public transports to buy tickets. For Transport companies, the Mobile Ticketing represents a key asset in the "Digitalization" process as the SMS is the easiest way to replace the 90% of sales that are still on the paper tickets in many PTCs.
Mobile Ticket at the heart of the transport ecosystem
We believe that the strength of the mobile ticketing lies in its scalability and effortless method to get citizens from point A to B anywhere, anytime. A Digital Ticket offers a way to turn a mobile phone into both a wallet and a ticket, by avoiding the need for passenger to carry a credit card, cash or wait in line to buy a ticket.
In this partnership, we offer to Autolinee our DV Ticketing solution, this makes the purchase of tickets using phone credits available to all customers of TIM, Vodafone and WINDTRE. But more than a Direct Carrier Billing connection, DV Ticketing manages the full process of mobile ticketing integration, assuring the connection to the Transport Operators in Italy, starting the journey of a more elevated customer experience for passengers in Tuscany.
About latest DV Ticketing partnerships read here. If you want to learn more about the benefits of Direct Carrier Billing and its monetization strategies, please consult our website.
User Experience in Tuscany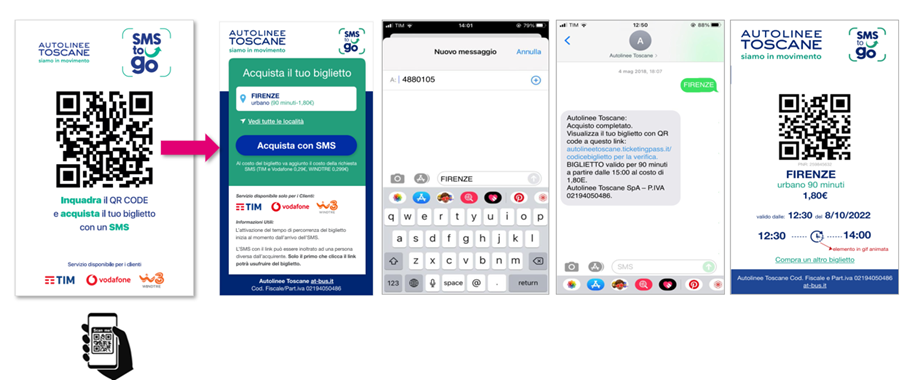 About Autolinee
Autolinee Toscane SpA is a Tuscan company with registered office in Borgo San Lorenzo (FI), 100% owned by RATP Dev Italia, a company belonging to the RATP Group, one of the biggest transport operators in the world.
In Tuscany, we manage the local public transport of the entire Region and are committed every day to offering different, modern and efficient forms of transport to help Tuscans rediscover the convenience of travelling by public transport. Providing a service comparable to those of other international companies in the sector.
About Digital Virgo
The Digital Virgo Group is one of the world's leading specialists in mobile payment via Telecom Operators' billing solutions. By connecting Merchants to Carriers, we address the growing need for the digitalisation of payment by using a simple, fast and secure transactional channel available anywhere in the world.