$160 billion worth industry
This fast expanding industry shows no signs of slowing down. The global games market is now worth of $159.3 billion, increasing its revenues by +9.3% in comparison with 2019. Due to COVID-19 lockdown measure, all game segments saw a significant increase in customer engagement. Based on the numbers, mobile gaming is reaching the biggest growth (+13.3%), generating $77.2 billion worth of revenue so far this year. In comparison, the second largest segment – Console is worth $45.2 billion and PC games – $36.9 billion in 2020 (Source).
Billions of players worldwide
It is predicted that by the end of 2020, there will be more than 2.7 billion players across the globe. It proves that within the past decade gaming platforms had truly entered the mainstream. Thanks to the variety of them, including mobile, PC games, console, e-sport it is increasingly difficult to find someone between 12 and 30 years old who doesn't play games.
Playing video games with group of friends or family members creates new social connections and brings people together. Especially due to confinement period, this type of entertainment created a simulation of shared life experiences. During this challenging period, consumers were seeking more than ever to seek alternative ways to socialize.
In this chart you can see the distribution of gamers worldwide by age group and gender: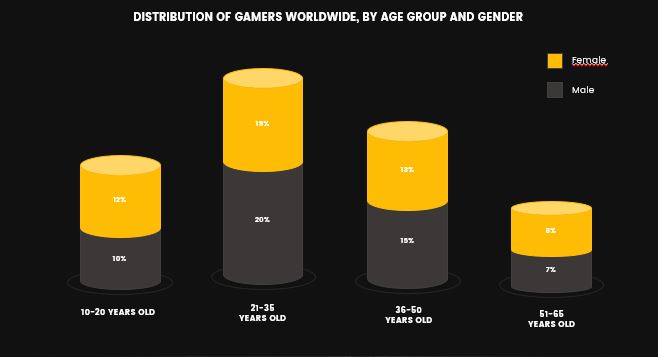 Alternative way to consume games
There is an emerging group of consumers that not only enjoy to play, but also enjoy to watch. This new way of consuming gaming content is pulled up by the biggest esport games, with live and on demand videos on platforms such as Twitch and Youtube. In fact, time spent watching others playing online is getting closer and closer to time spent watching traditional sport.
Gamers 18-25 spend 77% more time watching other people playing online than watching traditional sports. In comparison, 26-35 spend nearly the same amount of time watching online gaming and traditional sports. It highlights the consumer need in the content that can be not only played, but also watched.
The latest numbers on time watch esports and sports by device and gender: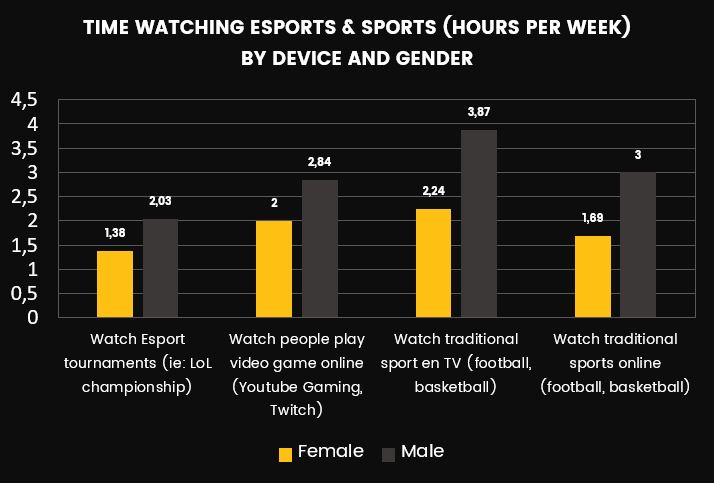 Fuze Forge – our complete offer for gamers
Fuze Forge is a premium Digital Virgo's app created by our DV Content experts. It proposes more than 5000 games for mobile and PC, including other contents for the biggest fans of video games.
Our DV Content Team built this premium content platform based on the needs of players. It offers both content to Play and content to Watch. The goal was also to cover all segments of the population, so Fuze Forge offers multi device option (pc and mobile).
The premium gaming platform was designed to be suitable for all tastes and ages. This is why our audience is very broad and welcomes 54.5% female and 45.5% male pc and mobile gamers.
We always try to broaden our offer and provide our subscribers with new and interesting content, e-sport news and articles. Visit our blog to find out more about our monetization strategies for Content Producers, Publishers and Carriers.