The Music Industry in 2023
The global music industry saw its 8th consecutive year of growth and was valued at $26.2 billion in 2022, according to the IFPI Global Music Report. Looking at global revenue shares, streaming took the majority with 67%, proving that it continues to dominate.
Over the last year, streaming reached $17.5 billion, an 11.5% increase. This is a sharp contrast to downloads and other digital (non-streaming) forms, which decreased by 11.7%. The fastest growing region was Sub Saharan Africa, where music revenue increased by 34.7%, followed by Latin America with 25.9%. These regions, traditionally underbanked, are a prime example of the importance of diversifying payment services in digital content, so that customers can access them without credit cards being an entry barrier. According to Statista, global streaming revenue is projected to reach $31.4 billion. While looking forward, trends in streaming are starting to emerge. The popularity of streaming services has seen a rise in content exclusivity, such as unique content or pre-releasing new music, to attract and retain users.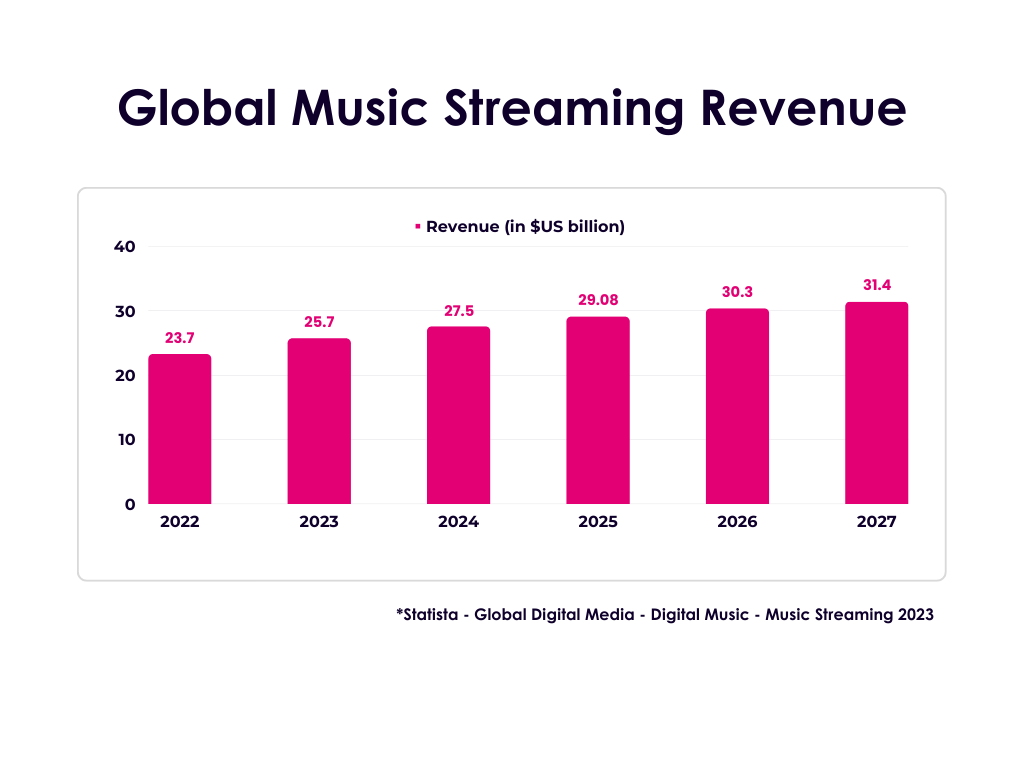 When discussing the music industry, we must talk about what people are listening to. As streaming and other digital methods allow music to be more global, local music is taking the spotlight. The ability to reach global audiences means that emerging markets are now opening to more significant investment in digital music and streaming services. Using local artists on streaming services means that people can connect with the artists that they love as more people switch to consuming digital music content. According to Juniper Research, big streaming brands are now being challenged by regional and national streaming platforms that offer more local music. Reaching users with the most attractive music content is paramount.
Engaging with Content
The way people are engaging with content has changed over the years. As digital music increases each year, the ways people engage with music further evolves. Music is now consumed not just through radio or visual media such as films or tv, but through short form video like YouTube, and streaming services. Music has evolved to reach a wider audience through livestreaming, gaming and social media. According to the 2022 IFPI Engaging with Music Report, 82% of users engage with music through video streaming, compared to 74% through audio streaming. Although streaming is here to stay, evolution allows music to take on different forms with 44% of gamers watching a virtual music concert on a gaming platform in 2022. This opens the possibility of reaching music consumers through digital platforms and devices. Content creators look to the next generation, as 21% of people aged 16 – 24 watched in 2022 a virtual music concert on a gaming platform, according to the IFPI Engaging with Music Report. The future is bright with diverse platforms to consume music.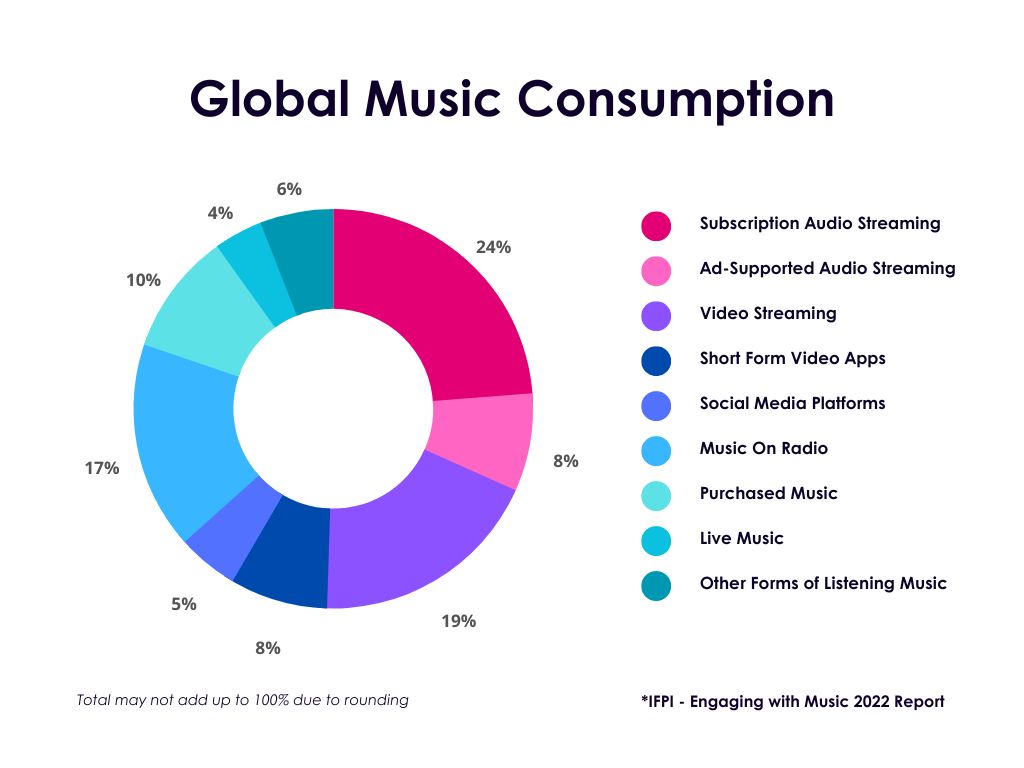 Low Friction Payments
While music content continues to develop and grow, reaching emerging markets is paramount. By 2025, the total end user carrier billing spend is projected to be $5.2 billion, according to Juniper Research. Direct carrier billing is an ideal payment method as the cost of digital music is generally low value and available directly on mobile devices. This low friction payment method means that people have a faster connection to listening to their favorite music. In 2023, the top 3 countries that are creating the most revenue from music streaming are United States at $10.2 billion, China with $3.18 billion and the United Kingdom at $1.97 billion. This is only projected to grow in 2027 to $12.45 billion in the United States, $3.97 billion in China and $2.35 billion in the United Kingdom. On thew other hand, as mentioned above, developing markets, such as countries in Africa and Latin America, are the fastest growing, so alternative payment methods are crucial to address these regions and increase the platforms' user base and revenue. While localization of music consumption is a key trend, having local partners is vital for Merchants and Carriers that want to address new markets.
Want to know how Digital Virgo can help you to do it?
Contact our team of experts here.