The State of Event Ticketing in 2023
To understand the evolution of event ticketing, it's important to highlight two main points: customers are nowadays looking for a convenient way to pay and store their tickets, while event organizers want to stand out from their competitors by offering a seamless purchasing experience and make the most of this process to understand and engage their audience.
Based on this, electronic tickets are now the most extended form of ticketing. Especially after the pandemic, e-tickets have become the norm. The convenience that it offers, together with the safety, makes electronic tickets the best option for both customers and organizers. Together with other factors, this will mean that by 2025 there will be 747.2 billion event ticket users in the world (Statista).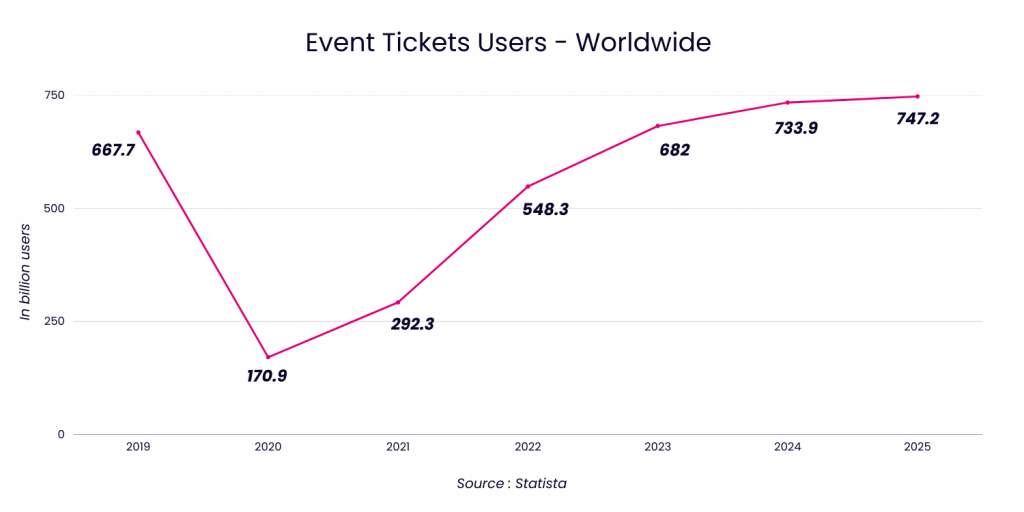 With this being said, the transition from traditional to electronic tickets has allowed a more efficient management of pricing and distribution, but also a cost saving and greener option. This development has also made possible to collect more accurate customer data, which has proved beneficial for organisers wishing to better understand their audience and adjust their offerings accordingly.
The event ticketing market is constantly evolving, expected to reach $77.53 billion by the end of 2023 (Statista), and is sensitive to the context in which it operates. The trends for the coming years, just to mention a few, include:
Integration of augmented and virtual reality, that will offer more immersive experiences.
Strengthening of security in digital tickets to combat fraud.
Combination of event ticketing with other online services.
Boost in electronic tickets for hybrid events, where physical presence is combined with online participation.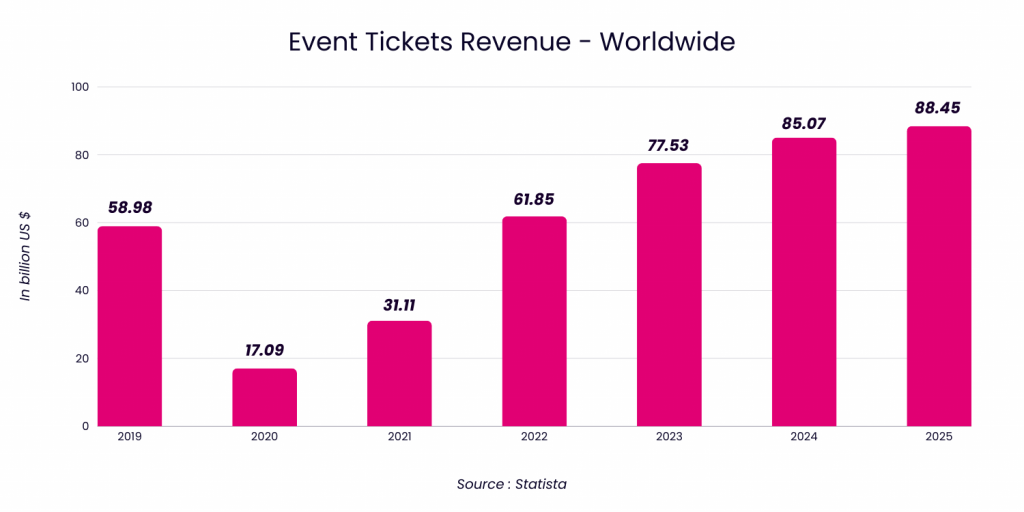 How can Media Companies Target and Engage their Audience with Event Ticketing?
In the middle of this ecosystem we have media companies, that linked to the evolution of technology and consumption habits have adapted to the new reality incorporating new revenue streams and ways to engage with their audience to stay relevant. In this context, these companies are now organizing events for their audience, together with competitions to enter events, where ticketing becomes a key point in the process. The media, whether linked to the entertainment, sports or cultural industries, are also finding many advantages in this transition to electronic ticketing. It enables the collection of valuable data on their audiences, such as event preferences, ticket buying habits and demographics. This deeper understanding of the audience enables better personalisation of content and advertising, improving engagement. E-ticketing enables the media to target their audience more precisely, offering promotions and special offers to ticket holders for specific events, which can boost loyalty and encourage repeated sales. On top of that, the reduction in the cost of printing and distributing physical tickets, as well as the simplification of ticket management, translates into significant savings.
User Experience at the Centre of the Business
When it comes to electronic ticketing for events, it is essential to consider the user experience as a central element of this development. The benefits of e-ticketing are not limited to event organisers and the media, but also extend to customers.
Thanks to technological advances, users now enjoy a more fluid, convenient and personalised ticket-buying experience. They can buy tickets online at any time, from any Internet-connected device, eliminating the need to physically visit a point of sale or queue at ticket offices. These e-ticketing platforms use data to offer personalised recommendations, helping users to discover new events that match their interests. Electronic tickets are also synonymous with enhanced security, thanks to technologies such as QR codes, which ensure that only authorised people gain access to the event. Ticket management is simplified by storing them in dedicated mobile applications, so that they are always to hand. This makes them easier to check at the entrance to the event and to transfer to other people. E-ticketing enhances the entire event ecosystem, delivering significant strategic benefits while providing a more convenient user experience.
The Evolution of DV Ticketing Event Solution
It is against this backdrop that Digital Virgo has developed a solution for managing the entire process of offering dematerialised tickets for media competitions: DV Ticketing Event. This comprehensive modular solution enables tickets to be managed automatically, allows customizations to be made (adding a logo or other visual, information about the event, the template and legal notices) and tickets to be sent by SMS or email. DV Ticketing Event also provides organisers a fast way of checking tickets at the entrance, with team training and scanner hire for the day of the event.
The platform has an intuitive interface that makes it easy to manage digital ticketing. There is a dashboard containing various data such as KPIs, performance indicators, ticket and attendee list previews, as well as real-time analysis and monitoring of results to support the overall management of an event.
The DV Ticketing Event solution complements the DV Live offer, as managing competitions requires more than simply transmitting dematerialised tickets. The media organise competitions in which viewers/listeners are able to win tickets to an event through a cinematic sequence in a winning row, for example. This is why the DV Live teams have chosen to use the DV Ticketing Event solution to complement their offering. This strategy makes it possible to manage the entire interactive operation using the same tool, without having to use other service providers.   
The process for viewers/listeners is simple: they start by taking part in the competition. If they are among the winners, they will win two tickets for the event, which they will receive directly via the SMS+ gameplay using a short URL. By clicking on the URL, they can access the 2 invitations, which contain all the information they need. On the big day, all they have to do is turn up at the event with their digital tickets and enjoy!
Partners who have already put their trust in us include: Radio Contact, Europe 2, Activ Radio, Radio Camargue, Top Music, and many more.
Want to know more about theDV Ticketing Event solution? Contact us.