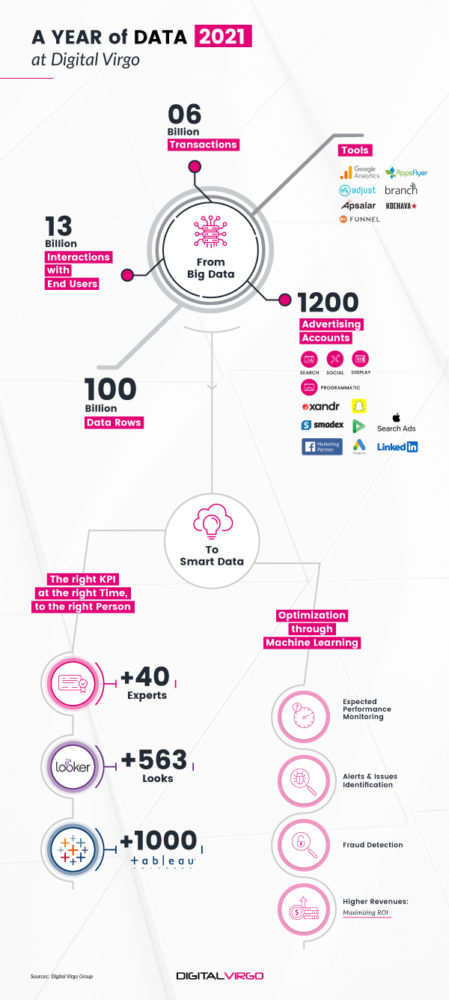 Data centric analysis plays an increasingly important role in the Mobile Payment ecosystem. Digital Virgo is recognized in this ecosystem for its unique positioning as an expert in global strategies made of Telecom Payment, Monetization and Digital Marketing. Data management, analysis and transformation is at the heart of these Digital Virgo's global performance strategies.
Large Volumes of Data
Powerful Tracking tools (AppsFlyer, Google Analytics, Adjust, Branch, Apsalar, Kochava) enable us to collect Data from more than 10 million end-user interactions each year. With 6 billion transactions and 100 Billion Data rows collected in 2020 – our Data Team is constantly searching on how to make the best use of all the data acquired from Telecom Payment transactions and 1.000 Advertising accounts.
Data is an essential lever to ensure a sustainable ecosystem
Data collection in the Mobile Payment ecosystem increases the ROI and facilitates the detection of fraudulent activity.
Data acts as a ROI booster : data is also valuable for performance management. Billing metrics can be isolated with a granular approach thanks to the Data collected through the voluminous transactions. It gives in-depth analysis and detailed insights to the partners so they can manage a sustainable and safe ecosystem.
Data secures the market : data gathering and analysis enable the industry to detect and fight fraud.
From Big Data to Smart Data
Our experts don't just collect a large volume of data, they analyze, segment, filter, convert and all this… In real time. They create Smart Data. Decision-making is faster and therefore more efficient, problems are detected and corrected instantly.
Smart Data allows us to support our partners, Carriers and Merchants, to reach better analysis of their billing performances and boost their revenues.