65 % subscriber growth 2020-2025
It is not a secret, that more and more of traditional broadcasters are turning to a combination of subscription and advertising-supported monetisation strategies to stay on the market alongside online video giants such as Netflix, Amazon Prime Video and Disney+.
Subscription e-commerce market is widely adopted to the needs of today's consumer. Today, consumers are demanding flexible and customized services and the demand of OTT video streaming services is not an exception. Not to mention the highly positive impact on the market due to the COVID 19 applied intense measurements.
Based on Juniper Research report, even 70 % of streamed sessions in the next five years will occur on smartphones. This change will be heavily influenced by the emergence of social videos on platforms like Tik Tok.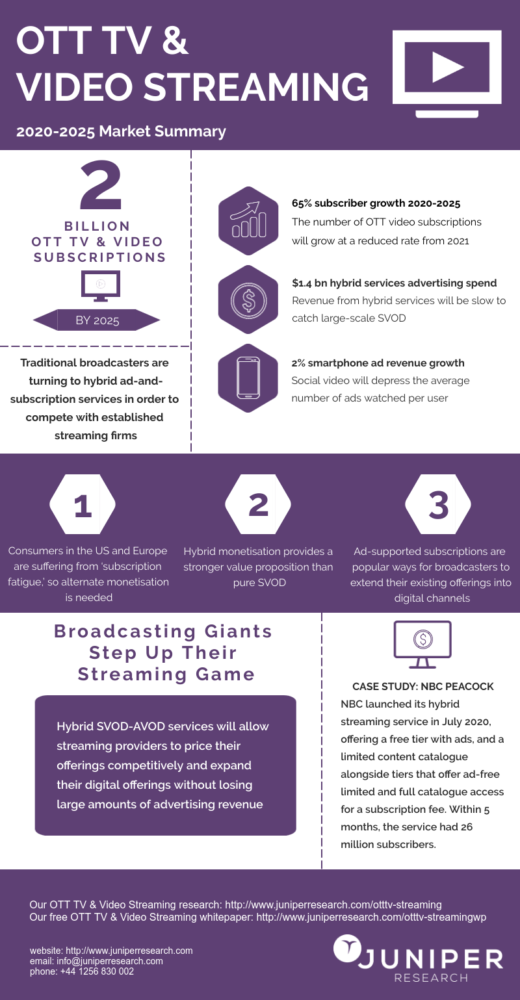 The emergence of new monetization models: Subscription, Single Purchase, Bundles, AVOD…
The dominant model over the past years has been the subscription one and it will remain very strong, but in order to face the profusion of OTT services in this field, some players are exploring new approaches.
One of the big trends now is the bundling of OTT services within a broader offer – this is a preferred approach for a lot of Telecom Operators.
The other raising business model is AVOD, which is often combined with subscription model and usually a preferred model for media groups.
To adapt to this various number of models it's key to rely on for players who can make the job of bringing consistency within this heterogeneous situation and generate value in a mobile first environment.
The mix of single purchase and subscription models
Our DV Content team has helped many Merchants and Carriers to grow their businesses by adapting the mix of single purchase and subscription models. By also implementing DCB payment method, giving an easy and secure connection to the Carrier's ecosystem and a performing solution to monetize growing mobile first audiences.
Why the mix of the models is so beneficial?
It plays an important role for both Customers and Merchants. It brings value for customers by offering a range of premium content and for Merchants bigger distribution opportunities, yet as we can see and bigger audiences.
Convenience of the mobile payment mode
We believe in the convenience of implementing DCB with mobile services. This method is counted as one of the most easy and reliable payment modes that offers the security for the customer by not requiring any personal information such as bank card details.
Our expertise is local, but our footprint is global. Learn about our recent partnership with MOLOTOV and how we help them to expand in Africa with the help of our Telecom Payment expertise.
Click here to view original web page at www.juniperresearch.com