A short overview on Tik Tok
Tik Tok represents a new generation's video sharing app, suggesting a fun, simple and more approachable platform accessible for everybody.
800 Million users worldwide
Over 1.5 Billion times app downloads
41% of users aged between 16-24
And among them even 90% access the app on a daily basis
More just a fun platform – a whole new platform for digital marketing development
Established in 2016 – Tik Tok is relatively a new platform that already reached a significantly big and loyal audience. Considering the fact that the majority of audience (66%) are falling below the 30-age category, it proves that this is a great platform to reach the generation of tomorrow.
So, what you can do on Tik Tok?
Your own branded marketing channel
Brand your own marketing channel – you can publish your short marketing videos and promote your brand using Tik Tok brand partnerships.
Localized Marketing Campaigns – Businesses operating at multiple locations can easily create localized marketing campaigns in different languages.
Delivery algorithms – Due to unique delivery algorithms, it is easy to get higher video engagement with much less effort, because your content is not depended on your followership. Your videos can go viral even if your account is new and has zero followers.
Upgraded Hashtag policy – Comparing with other platforms like Instagram and Facebook, Tik Tok is repurposing hashtags. Now they can be used to redirect people to various challenges, brands and products. By using hashtags, you can affect Tik Tok algorithm and get a higher visibility on your videos.
Tik Tok ad manager – Tik Tok now also has its own self-serve tool for more performance-oriented formats. The tool is invite – only but anyone may apply for an invite.
The news platform for advertising
Freedom for creativity. Tik Tok offers some tools to create videos from images or url. offering for advertisers an opportunity to choose music, text and video's length.
Various formats. As far as formats are concerned, Tik Tok offers globally 3 large formats. The 2 first mechanics are in-feed ads, with 2 different formats: Campaign Heater, and Fanbase Booster. The first one allows to direct to a landing page and to generate, for example, app downloads. The second one aims to increase the number of fans on a Tik Tok brand profile.
Limitless Discovery. Users can view videos from a wide range of suggestions, in comparison with other platforms where you can only access the specific content based on your following.
Ad sets. This is a unique Tik Tok's feature that proposes Ad Tags and Ad Categories.
Ad visibility in the feed. Tik Tok ads are quite discreet, it blends into the feed. The only difference between an ad and a post is the word "ad" that appears at the end of the description.
Short videos. Most of the videos are short, between 9 and 15 seconds, making a strong impact on the viewer, comparing with longer videos of a few minutes. Music should be also taken into account. Most of the users have the sound on and this is the main characteristic of this social network.
Call to Action. Call to Action is placed at the bottom of the video, making it easily reachable.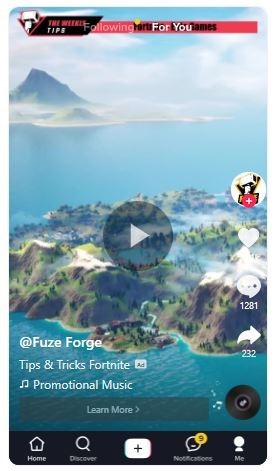 Why do you must advertise on Tik Tok?
Access to young generations
Growing Network of Brands
Short videos with huge impact
The number of advertisers on Tik Tok is getting higher every day, especially for branding ads. Nonetheless, the platform is still in its early stages. New functionalities appear on a daily bases, and Tik Tok ambition is to compete with the most well-known social media platforms in the future.
The DV AdTech Team
To support the performance and maximize the traffic of advertising, our DV Adtech Team also uses Tik Tok platform. Our Team of experts specialises in user acquisition and 100% ROI approach. Learn more about it at: dv-adtech.com