A pocket-sized revolution
Spurred on by recent global events, alternative payment methods have not just grown but exploded across the globe. More countries than ever are embracing these payment methods. In 2022, Direct Carrier Billing total end user spend reached $62.6 billion, according to Juniper Research (11.4% CAGR from 2021). The fastest growing DCB regions will be the Indian Subcontinent with $1.3 billion total end user spend in 2023, followed by Africa and the Middle East with $1.4 billion. The MEA region is projected to reach a stunning $5.8 billion by 2027, according to Juniper Research.
The State of the Industry Report on Mobile Money 2023 confirms that digital payments are soaring. The total transaction volume of mobile money reached 65 billion in 2022, with $1.26 trillion processed annually by the industry. The 22% CAGR puts digital wallets in a good position to continue their growth. A 13% increase in registered mobile money accounts in 2022, a total of 1.6 billion, confirms that mobile money is here to stay.
Regionally, mobile money has seen massive growth in traditionally underbanked regions. Sub-Saharan Africa saw the largest development with a 22% growth, reaching $832 billion in transaction value, outperforming the next highest region, South Asia, by $647 billion. South Asia's 20% growth in mobile money in 2022 resulted in $185 billion in transaction value according to the same report.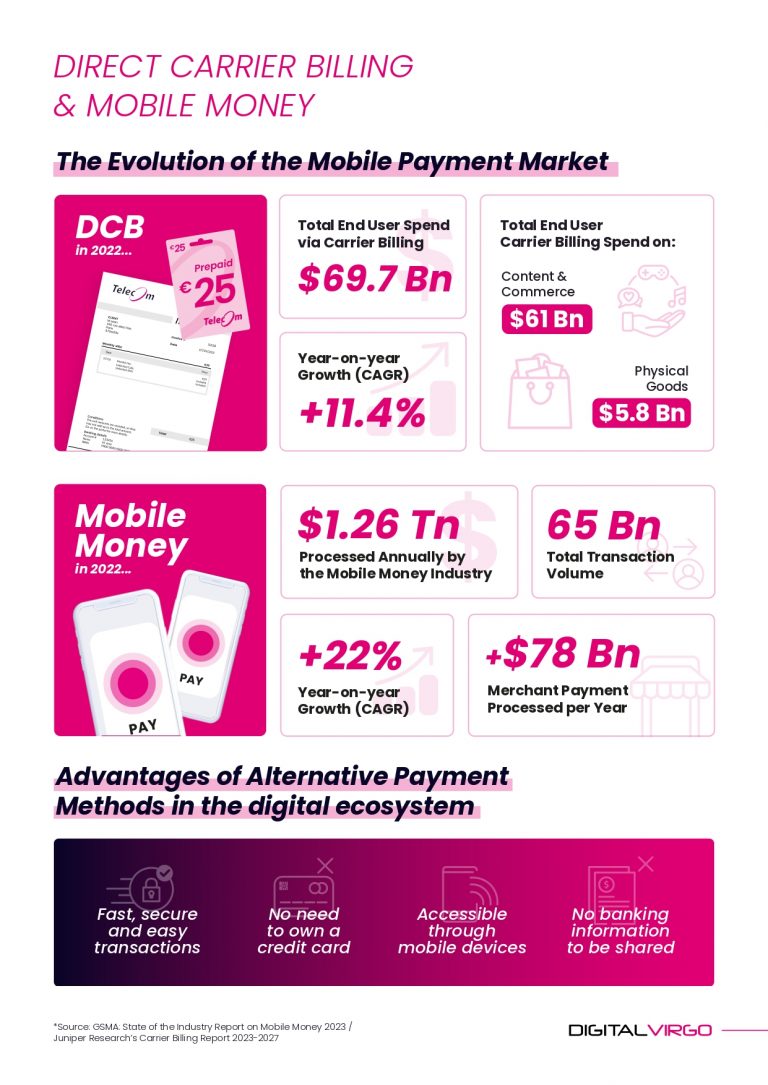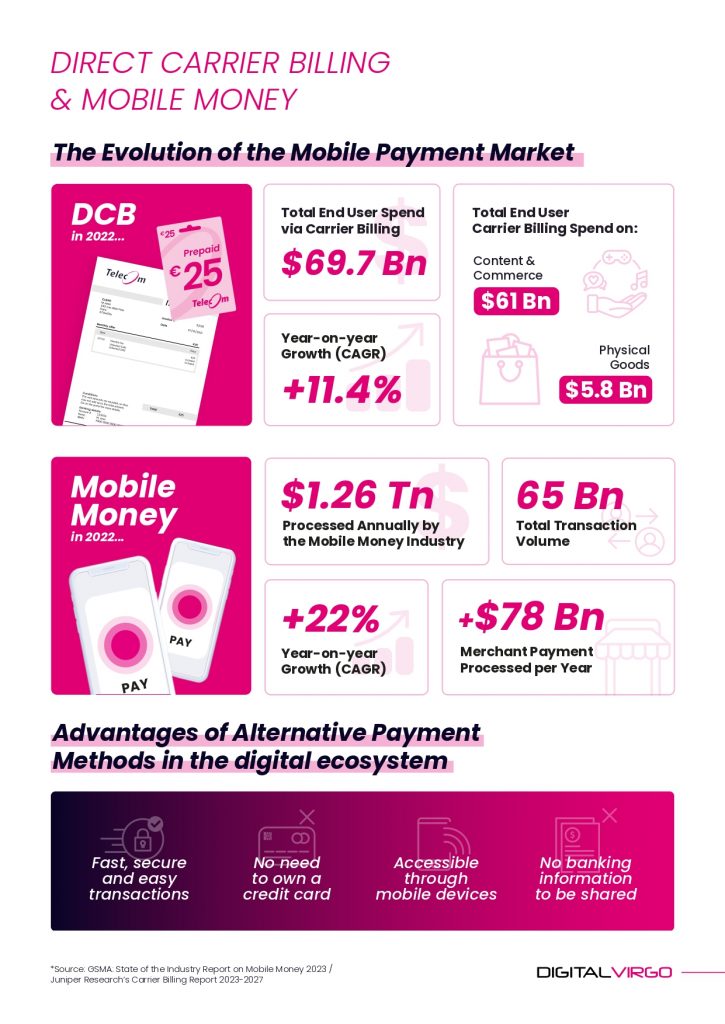 From online to reality – consumer spending is exploding
Alternative payment methods are no longer just for digital content and services, in 2022 $4 billion of total end user billing spend via carrier billing was on physical goods, according to Juniper Research. This frictionless payment method is proving even more popular in the content and commerce segment with a projected $21 billion in total end user spending in 2023.
Consumers are choosing digital payments more due to the ease of it, in 2022, merchant payments with mobile money totaled more than $78 billion, a 17% year-on-year increase, according to GSMA. While the number of businesses that accept this payment method increases, more people turn to it for proximity payments such as in physical shop, bringing alternative payment methods into people's daily lives.
DV PASS connecting carriers and mobile money providers
To take advantage of alternative payment methods, you need a platform that can handle multiple payment options efficiently and securely. DV PASS can manage mobile money or DCB payment options through a simple API connection. The platform connects to over 150+ operators worldwide and mobile money services in 9 countries in Africa.
The ability to offer local adaptation means that merchants and telcos can offer all local payment methods for their customers. Adapted to all mobile environments, our technology scales businesses to a global audience.
Contact our team now and discover how your business can grow internationally here.