Regional specificities and perspectives
The MENA region is a growing area for digital payments and premium digital content, with the United Arab Emirates as a key player. Boasting a 37% 4G/5G connection rate, according to the GSMA State of Mobile Internet Connectivity Report 2022, as well as 46% mobile internet connectivity, the chance to create opportunity for telcos, merchants and content creators to make their mark is now.
With a population of 9.48 million, the UAE has an Internet penetration of 99%. This, paired with the fact that 87.6% of the population lives in urban centres and that the median age is just over 33 years old, makes the ecosystem in the United Arab Emirates the perfect scenario for a steady growth in the digitization process (Data Reportal).
More people than ever are turning to mobile platforms for digital content and services in their everyday life. To pay for these services, digital wallets have boomed. In 2022, the MENA region had the biggest growth in active (30-day) Mobile Money accounts with a 39% increase, according to the 2023 GSMA State of the Industry Report.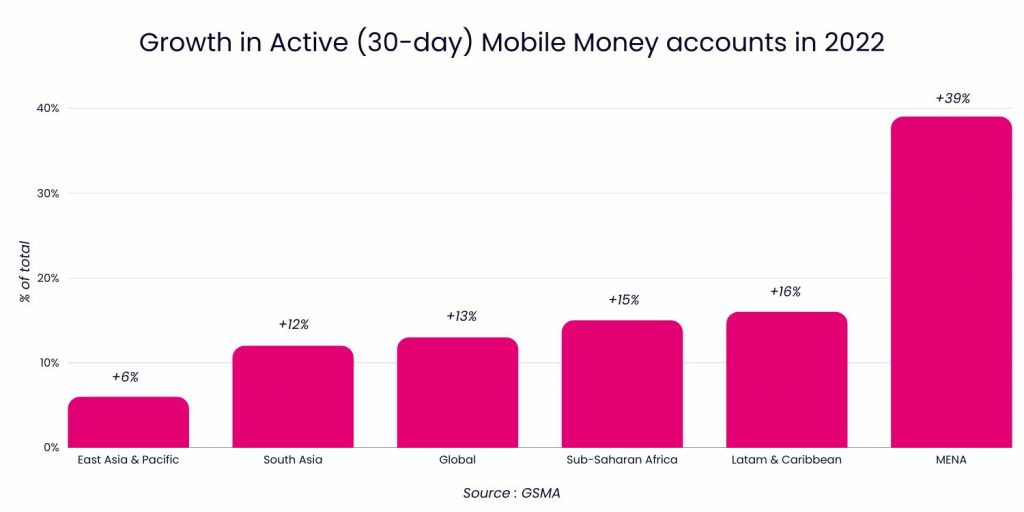 Digital payments and e-commerce
The e-commerce market in MENA grew 26% annually between 2017 and 2021. Although, according to the Worldpay: Global Payment Reports, the CAGR through 2025 is expected to slow down (with a still solid 20% CAGR), the United Arab Emirates (UAE) will lead the growth with an extraordinary 23% CAGR.
This trend is boosted partially by alternative payment methods, especially digital wallets, which are key in UAE's e-commerce ecosystem and already popular in the country. It is projected that by 2025 digital wallets will become the largest payment method in e-commerce, representing 25.6% of transaction value by that year (Worldpay: Global Payment Reports). Making paying for digital products and services, as well as physical goods, easier than ever means that more people will implement this payment habits into their daily lifes.
On the other hand, another alternative payment method that can facilitate the access to digital content and services in the country, and that is well suited to this new digital ecosystem, Direct Carrier Billing, counts for 9.7% of all digital games billed in the UAE, with mobile games worth $8.1 million in the market (Juniper Research's Carrier Billing: Regional Analysis, Key Verticals & Market Forescasts 2023-2027)
Digital content consumption
In the United Arab Emirates, gaming has overtaken digital content consumption with over $280 million in revenue in 2021, according to Statista. Which is far ahead of the next most popular type of digital content, digital entertainment (from news to sports content) with over $35 million in revenue. By 2026, digital gaming in the region is expected to grow up to $5.4 billion. In the same line, in 2023 eSports is worth $9.88 million according to Statista. These numbers are expected to continue growing, with new users intersted in it, and the UAE is projected to be a leader in eSports in the MENA region by 2027.