1. Mobile money transactions reached $1.26 trillion in value
Digital transactions kept increasing rapidly through 2022 as the use of cash has slowed down. Transaction values escalated by 22% between 2021 and 2022, from $1 trillion to $1.26 trillion. While in 2020, global daily transaction values surpassed $2 billion, by 2022 the numbers increased up to $3.45 billion transacted daily via mobile money. According to Juniper Research, the total value of mobile money transactions in emerging markets will reach $2 trillion in by 2027, an increase of over $500 billion from 2023, growing at 33% year-on-year.
2. Sub-Saharan Africa, South Asia and Latam, lead the increase in registered accounts
Registered accounts grew by 13% year on year globally, from 1.4 billion in 2021 to 1.6 billion in 2022. Accounts active on a 30-day basis also grew at the same rate year on year, with Sub-Saharan Africa driving the bulk of this increase. More customers are using their accounts more frequently. Sub-Saharan Africa is leading the growth in registered accounts with a YoY increase of 17%, followed closely by South Asian and Latin America, both with a 13% increase.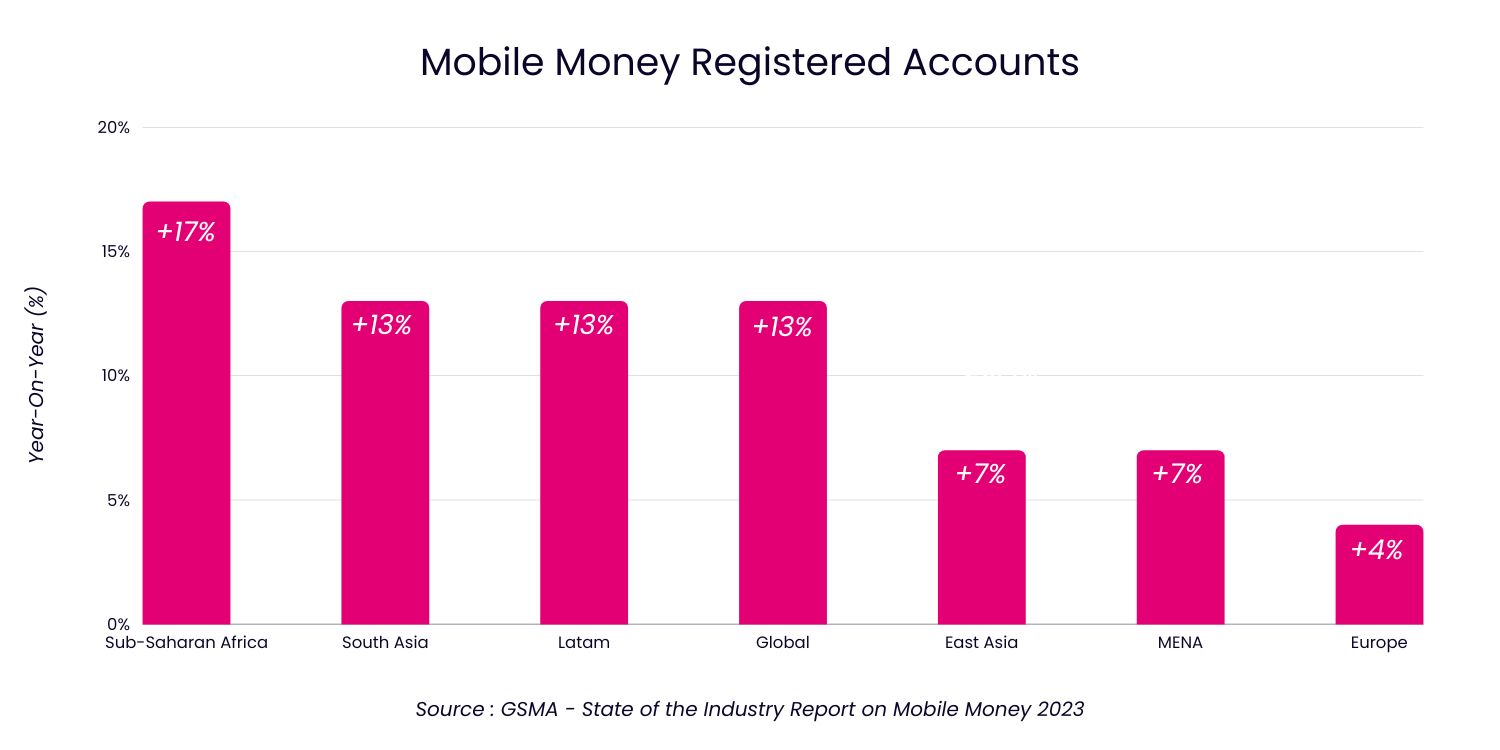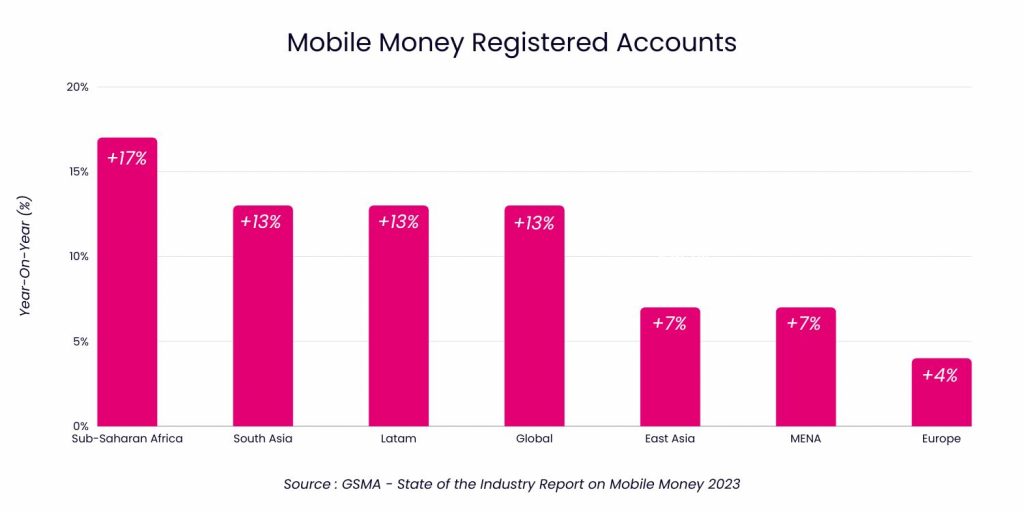 Over the last ten years, mobile money accounts have emerged as a crucial component of Sub-Saharan Africa's financial landscape. According to data from the 2021 Global Findex report, a remarkable 33% of adults in the region now possess a mobile money account, marking a significant trend. In the near future, these trends are expected to continue growing, as awareness and accessibility are set to increase in the coming years.
3. Merchant payments grow by 17% up to $78 billion
Following an impressive nearly doubling in 2021, the transaction values related to merchant payments witnessed a notable growth of 17% in 2022, totalling approximately $78 billion. Although transaction volumes still increased by 26%, the rate of growth was slightly slower compared to the previous year's remarkable surge of 43%.
This growth pattern resulted in a decrease in the average ticket size of each merchant payment, a trend that was anticipated as transaction values stabilized towards the end of 2021, following a surge induced by the pandemic. Merchant payments have now become an integral part of the day-to-day transactions for mobile money users, as the frequency of these transactions continues to rise.
The growth of merchant payments extends beyond just transaction volumes and values. Businesses accepting this payment method have also seen a surge, with the number of monthly active merchants growing by an impressive 48% between September 2021 and June 2022. This trend highlights the increasing acceptance and adoption as a preferred payment method by businesses, further solidifying the market's expansion.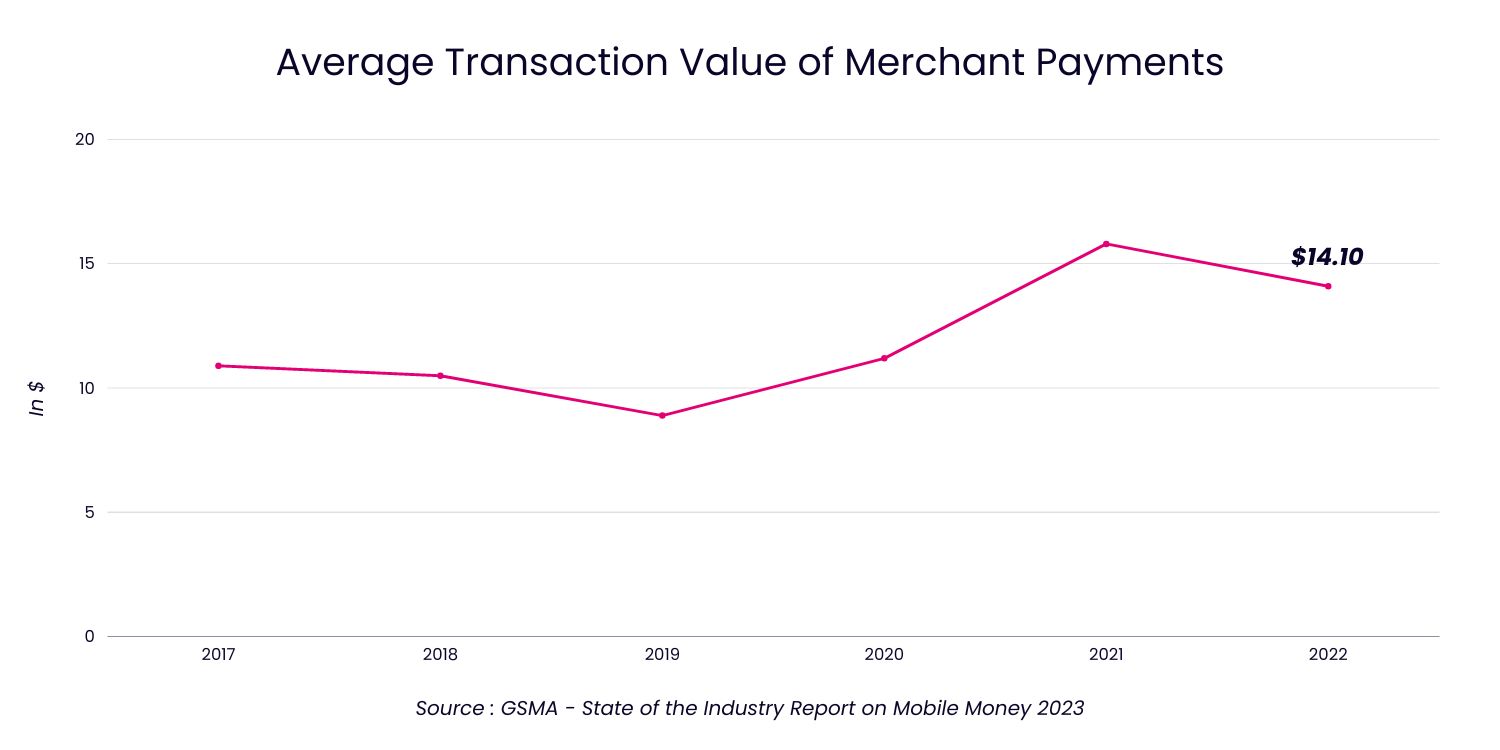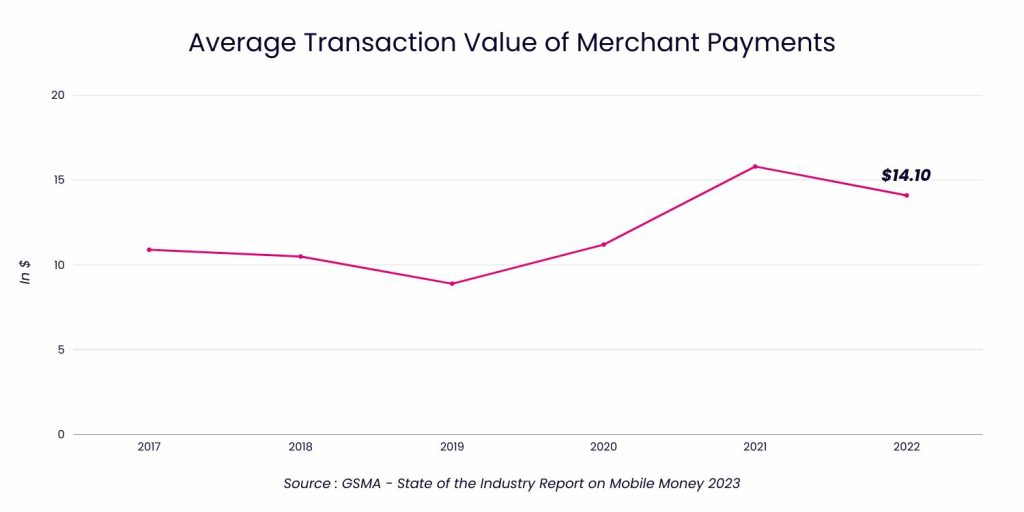 4. Smartphone ownership remains key to achieve financial inclusion through mobile money
Alternative payment methods, such as mobile money, are considered a driving force to achieve financial inclusion. Based on this, smartphone ownership is key for the implementation of mobile money worldwide, especially in emerging markets.
Additionally, the gender gap is still a challenge in some regions, as women in low- and middle-income countries are 28% less likely than men to own an account. One of the main barriers to closing the gender gap is mobile phone ownership: increasing mobile phone ownership can improve mobile money adoption rates among women.
In some regions, the gap has narrowed in the last decade. In Sub-Saharan Africa, for example, both men and women in are equally inclined to utilize a mobile money account as their primary financial account. This trend showcases mobile money's positive impact in providing women with greater financial inclusion and empowering them with access to essential financial services.
5. Mobile money is now considered a mainstream financial service in several regions
During the pandemic, mobile money enabled millions of individuals in low- and middle-income countries to access essential digital financial services to meet their daily needs. As the pandemic's impact began to ease, mobile money services experienced even faster growth in 2022 compared to the period before COVID-19. The enforced adoption of digital payments during the pandemic left a lasting imprint on many, leading them to continue using these services for their transactions.
Notably, the growth in mobile money activity has surpassed new registrations in numerous countries, indicating a maturation of the industry beyond its initial stages. The pandemic played a pivotal role in this expansion, facilitating a significant global increase in mobile money services and accounts.
Data from the GSMA Global Adoption Survey revealed that registered accounts and 30-day active accounts saw faster growth than initially predicted in 2019. Remarkably, between 2019 and 2022, the pandemic was responsible for an additional 400 million registered accounts, surpassing forecasts by at least 30%.
Why is mobile money essential for telcos & merchants?
All in all, mobile money keeps growing and consolidating as one of the preferred payment methods in emerging markets, and even increasing its popularity in mature markets. For merchants and telecom operators, opening up their services to accept this payment method can bring a new revenue stream, help increase their number of customers and ensure a better user experience for their clients. Adapting is key in an ever-evolving digital world and partnering with the right players can make a huge difference to succeed. If you want to know more about which is the best way to implement it, get in touch with our team of experts here.
Sources: All the figures correspond to GSMA's State of the Industry Report on Mobile Money 2023, unless otherwise stated